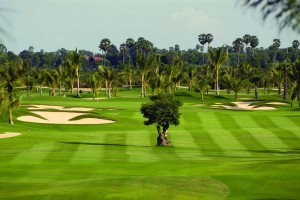 Phokeethra Country Club at Angkor Wat is only 12 miles outside of Siem Reap and is managed by the conscientious and experienced Sofitel brand. You know what to expect when you patronize a Sofitel property, true five-star hospitality. But you are coming here for golf and it is comforting to know that Phokeethra has hosted both the Johnnie Walker Classic and the Cambodia Open for recent years. The Asian Tour is particular about the venues they select and this is your assurance that world-class golf awaits you.
Water also awaits you if you get it going sideways, and even when you are hitting it straight the water is there. On 18, you will encounter a carry over water to add to your excitement. The natural lagoons and picturesque landscape make this a most relaxing ambience for plying your golf skills. The greens throughout tend to be somewhat large but that can mean a wide variety of pin placements and a lot of long putts. Fortunately, the scorecard shows the pin placement schemes for determining the daily locations of the holes and that should help you dial in your approaches and shorten those first putts.
If you want to shorten the course, though, you'll have to move forward and stay off the Gold tees because they play 7329 yards. That is long in the thin air of Colorado or Mexico City, so you can imagine what the tips have in store for you here in the tropical humidity of Siem Reap. But, no worries for the vast majority of golfers that consider themselves average or recreational. There are four tee boxes on each hole to provide substantially different playing options for virtually every skill level.
If advancing your skill level is on your agenda then you will appreciate the practice facilities that include a good driving range and practice greens. You will be pleased with the clubhouse amenities and their superb restaurant regularly gets rave reviews. Added to the great golf and hospitality are cultural touring opportunities to the World Heritage destination of Angkor Wat.
Contact one of our booking professionals to learn more and to add this course to a Cambodia golf package for you or your group.
Phokeethra Country Club Picture
Detail Information

Holes :
18
Par :
72
7,145 Yards
Designer :
V Golf Design
Established :
2007
Location :
Siem Reap
Max. golfers per group :
Weekday: 4
Open :
Everyday
Weekend: 4
Cart :
Weekday : $ 65. -
Golf Set :
$ 70. -
Weekend : $ 65. -
Umbrella :
$ 4.-
Shoes :
$ 15. -
Driving Range :
N/A
Facilities :
Massage, Restaurants, Sauna
Phokeethra Country Club Map
Fill Out This Golf Package Inquiry Form!