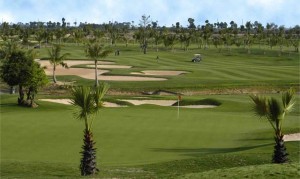 Royal Cambodia Phnom Penh Golf Club is where the Kingdom's prominent politicians and economists gather to mix business and golf, and where they entertain out of town diplomats and chief executive officers that are visiting the capital. Only five miles from Phom Penh, it is the closest Cambodia golf course to the nation's capital. The layout occupies level terrain set among rice fields with lots of palm trees, sand traps, and water hazards. Regardless of whether you bring your 'A' game to this track, you will find that your management skills will be much in demand.  BOOK NOW!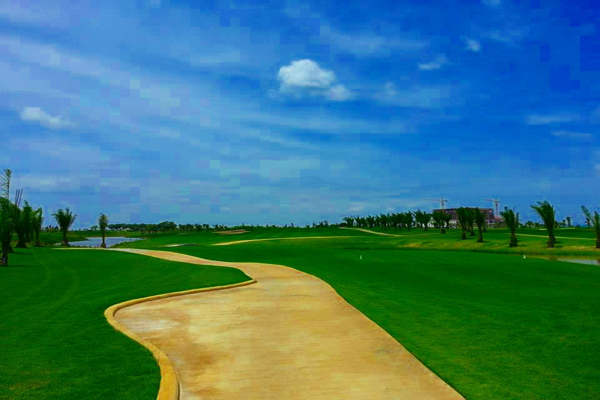 Garden City Golf Club opened in April 2013 ten miles north of Phnom Penh and is the rising star on the Cambodia golf scene. LYP Group Co. Ltd built this impressive facility with a goal of achieving first-rate clubhouse amenities and dining experiences around a course layout and playing experience challenging enough to gain the respect of the world's greatest tour professionals, while offering recreational players entertaining golf from a choice of five tees. The LYP owners have demonstrated good judgment in contracting IMG to manage this crown jewel golf property; not only for the expertise IMG brings to the management table, but also for the marketing value and authoritative confidence that the IMG brand adds to Garden City Golf Club.  BOOK NOW!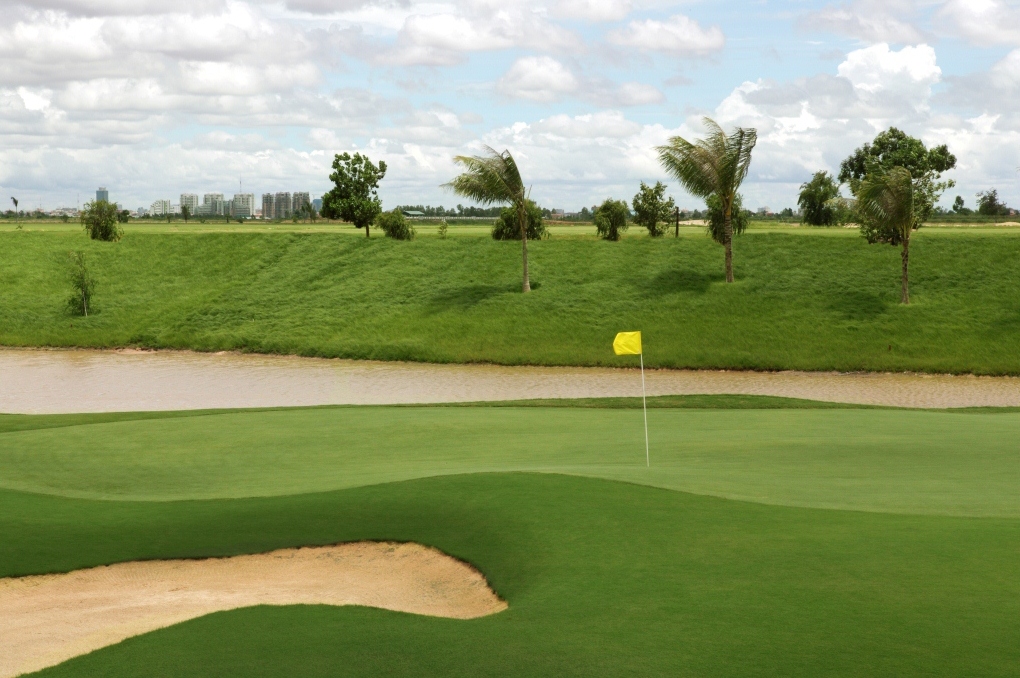 Grand Phnom Penh Golf Club is a short drive 8 miles north of the capital city where the manicured greens and well-groomed fairways of this upscale private golf club have upped the ante for Cambodia golf development. This Jack Nicklaus design provides ample width in the landing areas and, as you'd expect from the Golden Bear, the stakes get raised by the challenging decisions required in approaching the greens. This exclusive property is for members and guests only and we are pleased to offer you an opportunity to experience this magnificent club and 7243-yard layout on your next visit to Phnom Penh; just contact one of our booking professionals.  BOOK NOW!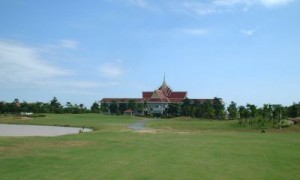 Royal Cambodia Phnom Penh Golf Club is just five miles from Phnom Penh international Airport, making it very accessible from downtown Phnom Penh. Being the closest course to the Cambodia capital contributes to its popularity among local expat business executives. The layout is level with only about 15 feet of elevation change throughout owing to the rice paddy terrain upon which it is built. The few coconut palms and other trees that dot the landscape are rather small and six small lakes are either in or near play. The course and club are a favorite of dignitaries, statesmen, and captains of commerce. BOOK NOW!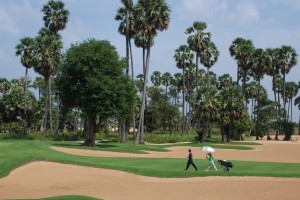 Angkor Golf Resort continues to garner increased praise, with many golfers viewing it as the finest course in Southeast Asia. That is quite an accolade when you look at the plethora of world-class golf venues in the region. With its PGA of America rating, this Faldo design presents multiple levels of challenging play from optional tee placements that accommodate players of every handicap and skill level. Recreational and casual golfers will appreciate that, rather than building an overly difficult layout from the middle and front tees, Sir Nick has introduced the need for good decision making in managing your way around this course. Competitive golfers will find it a stimulating test of ability.  BOOK NOW!
Read More…

Phokeethra Country Club at Angkor Wat has hosted both the Johnnie Walker Classic and the Cambodia Open in recent years and that is as good as any endorsement gets. You would expect as much from the conscientious and experienced Asian Tour, returning to a venue with authentic five-star hospitality where the Sofitel brand has the management reins. The combination of a globally respected, tour-level golf course situated only 12 miles outside of Siem Reap, and the World Heritage Angkor Wat historic attraction in the same destination make Phokeethra Country Club a must for your Cambodia golf holiday.  BOOK NOW!
Read More…

Siem Reap Booyoung Country Club features shimmering creeks that wander into play almost lulling you to complacency by their continual beauty until suddenly you find yourself wet. Water is the most prevalent distraction on nearly every hole at this course; followed by large and strategically located greenside bunker placements, with fairway sand traps completing the list of things to avoid during your round. Apart from the fairway traps, the landing areas are wide and rather forgiving. A few minutes out of Siem Reap on the road to Phnom Penh, it is located on the doorstep of cultural touring paradise, Angkor Wat.  BOOK NOW!