Phokeethra Country Club at Angkor Wat has hosted both the Johnnie Walker Classic and the Cambodia Open in recent years and that is as good as any endorsement gets. You would expect as much from the conscientious and experienced Asian Tour, returning to a venue with authentic five-star hospitality where the Sofitel brand has the management reins.
The combination of a globally respected, tour-level golf course situated only 12 miles outside of Siem Reap, and the World Heritage Angkor Wat historic attraction in the same destination make Phokeethra Country Club a must for your Cambodia golf holiday.
Water comes into play on 15 of the 18 holes here and where the water doesn't get you the sand might. If you are having a military golf day, left, right, left, right, you are likely to get wet on about 80 per cent of the holes, but even if you are having an 'as the crow flies' day, there are a handful of holes where you cross or at least flirt with the water twice from tee to green.
The bunkers here are like snowflakes, no two are alike. They include three vast waste bunkers that range from 90 to 180 yards in length, sporadic but well placed fairway bunkers, and some of the most challenging cluster bunkers you may ever have seen, with several consisting of six traps partially separated by ribbons and peninsulas of grass.
On 18, you will encounter a 403-yard par four with a 150-yard waste bunker down the right side. Across a 40-yard wide fairway, water runs from the tee 352 yards down the left, turns right and bisects the fairway, 100 yards short of an elevated green ensconced between cluster bunkers left and right with an 18-yard opening to a green that is even narrower in places. You will never forget this hole. Have your camera handy because the view of the clubhouse as you come up 18 is stunning.
Eighteen is not the only picturesque moment on the golf course where you will want your camera. Lagoons that look like they have been there since time immemorial, defined by naturally jutting shorelines populated irregularly by many kinds of indigenous vegetation seem to beg for a place in your memory card. If you cannot relax here, at least between the shots, you may need a clinical appointment.
All the greens throughout are on the large side and that can mean a wide variety of pin placements and a lot of long putts. It also tends to ensure that the greens wear evenly for consistent play. It is to the credit of the management team that the scorecard displays the pin placement schemes du jour for determining daily hole locations. Use the pin placement guide and you should be able to dial in your approaches and shorten those first putts.
If you want to shorten the course, however, you must move to the forward tees and stay off the Gold tees because they play 7329 yards. That is long in the mile-high air of Colorado or 8,000 foot altitude of Mexico City, so you can see what the Golds have in store for you here in the tropical humidity of Siem Reap. Choosing the appropriate tee is essential on any course, but a bit more so here for average and recreational golfers out to have fun playing golf.
Each hole presents four tee choices that deliver substantially different playing options for virtually every skill level. If you are on a mission to advance your skill level, the driving range and practice greens are everything your work ethic could want.
Before, between, and after rounds or practice sessions, the impressive clubhouse is sure to draw you in with its friendly atmosphere and every amenity that crosses your mind. Dining is particularly special in their superb restaurant that regularly enjoys rave reviews.
Added to the great golf and hospitality are cultural touring opportunities at the World Heritage destination of Angkor Wat.
Contact one of our booking professionals to learn more and to add this course to a Cambodia golf package for you or your group.
Holes :
18
Par :
72
Yards:
7,145
Designer :
V Golf Design
Established :
2007
Location :
Siem Reap
Max. golfers per group :
Weekday: 4
Weekend: 4
Open :
Everyday
Cart :
Weekday: $ 65
Weekend: $ 65
Golf Set :
$ 70
Umbrella :
$ 4
Shoes :
$ 15
Driving Range :
N/A
Facilities :
Massage, Restaurants, Sauna
Phokeethra Country Club Gallery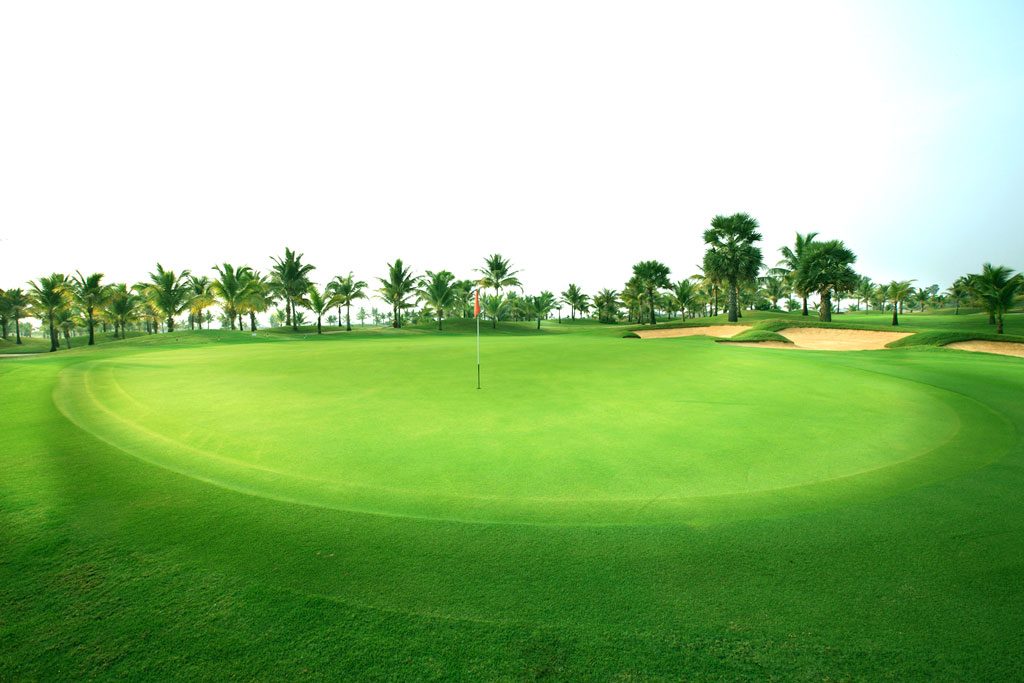 Phokeethra Country Club Map